Skip to main content
Digital Mailroom
Automate Incoming Mail Across the Enterprise
With a single touch, securely scan and electronically route documents to anyone, anytime, anywhere – whether in the office, on the road or at home.
Paper Elimination
Traditional mailrooms have bottlenecks because they require multiple sorts, many workers and an extended time to physically review and transport items to recipients. Significant speed, savings and security can be gained by scanning mail right at the point of entry, and using Mavro software to electronically route document images.
Risk from COVID-19 is prevented by avoiding paper movement throughout the organization.

Delivery delays and fees from couriers and expedited services are eliminated.

Labor required to sort and deliver mail – in the mailroom, across departments and to remote locations – are drastically minimized.
One-Touch Efficiency
Incoming mail is handled only once – when opened and scanned into Mavro's industry leading MavBridge™ Software. Our unique process automatically reviews the image and searches for keywords (mail code, department, recipient name, etc.) to classify and determine a delivery endpoint. Based on delivery business rules, documents are electronically distributed in the required format and method. The result is a highly automated and efficient document delivery solution.
Critical business documents are forwarded on a priority basis.
Mail addressed to specific individuals is automatically routed for easy access.
Business mail, such as invoices, claims, and correspondence, is directed to one or multiple queues for downstream processing.
Enterprise Integration and Access
Easily configurable distribution rules make for efficient digital mailroom automation – anytime, anywhere to anyone. Mavro's business logic processing ensures mail is accurately sent to the appropriate person, group or department.
Selected documents are automatically routed to a separate Mavro departmental or enterprise workflow.
Other items are seamlessly integrated with a third-party workflow for indexing, reviewing and archiving.
Mavro's Connect™ Web Portal module provides the ability to research, display and store images. In addition, Connect can initiate an interactive user workflow and produce reports.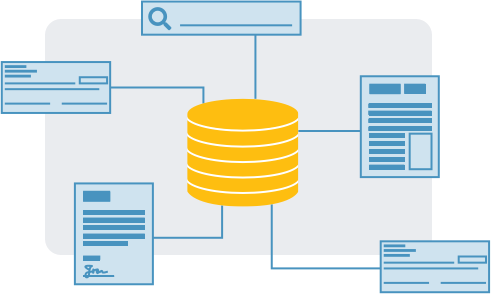 Security and Privacy
The highest level of security and privacy is paramount. Mavro's secure digital mailroom solution ensures your valuable and confidential documents are protected, while meeting audit needs and achieving company and regulatory compliance. End-to-end encryption is utilized from the initial point of scanning images throughout delivery and final storage. MavBridge automation maximizes control and security of all proprietary images and data by safeguarding your company against risks inherent with physical document sharing and distribution.
Resources
MavBridge One-Touch Brochure
Download
Learn what Mavro can do for you.