Skip to main content
Lockbox Solutions
Compliance & Security: The Key to Lockbox
The most efficient method for processing diverse payment types to improve client relationships and maximize your bottom line.
Lockbox operators face a particular set of difficulties. High variability in the payment types and associated documents received can make system setup an ongoing challenge, and lockbox clients require an easily accessible portal that will let them monitor daily results or download files and reports.
One Seamless Solution
MavBridge™ software seamlessly integrates wholesale and retail remittance processing within a single platform and provides an array of advanced capabilities that include image enhancement, Smart Batching™, Intelligent Check Perfing, Interactive OCR and easily configurable image-based workflows.
Process retail and wholesale lockbox transactions on a single system.

Multiple ICL and ACH output files eliminate the need for transporting physical checks to the bank and speeds funds availability.
Capability and Control
Our patented Smart Track™ software ensures all transactions are processed on time and all physical documents are either stored, shredded or returned as directed by lockbox clients. Smart Track simplifies the mailout process ensuring that each client receives a complete and correct package of reports and transactions and that nothing is sent to the wrong client. Smart Track can preprint address forms designed for insertion directly into windowed envelopes, eliminating the mistakes associated with using peel and stick labels. As a result, overall processing quality is significantly increased and the chance of a PCI or HIPAA violation is minimized.
Smart Track eliminates worries over lost or accidentally destroyed batches.

Smart Track simplifies the return of paper transactions to lockbox clients and eliminates incomplete returns or returns to the wrong client.
It's All About Access
With Connect™ Web Portal software, operators can use either basic or advanced search features to view reports or stored transactions from any time period. And lockbox clients have easy access to stored transactions and reports via web browser. Connect's workflow capabilities allow operators to submit pre-deposit exception transactions to lockbox clients when additional information is required for a processing decision. Clients can view the exceptions and easily supply any needed information.
Connect Web Portal's workflow for pre-deposit decisioning and easy access to stored transactions, reports and downloads contribute to client satisfaction.

Automated processing of ICL and ACH ARC formatted electronic bank return files increases operational efficiency.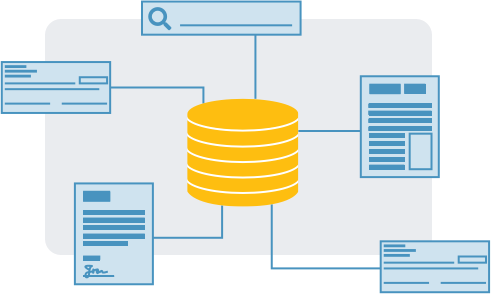 Security is Paramount
Ensure customer privacy and support regulatory compliance with automatic end to end encryption of all confidential site data. Automatic or selective redaction of check, credit card or other sensitive customer information; along with audit logs and active directory integration provide the features to protect client data and avoid the difficulties associated with a data breach.
Productivity and Performance
MavBridge Dashboard software gives managers the ability to monitor the overall performance of the remittance processing system and gives them the specific information they need to effectively handle daily fluctuations.
Real-time system monitoring tools make it easy to evaluate operator performance, assign resources, and avoid problems

Comprehensive tools ease job setup tasks for new clients and modification tasks for existing clients.
Learn what Mavro can do for you.