Skip to main content
Document Imaging
Cost-Effective Capture, Processing and Storage
Automating document processing saves costs, gains speed and improves accuracy which adds up to customer satisfaction.
In spite of predictions for a paperless world, organizations continue to generate, receive and store large volumes of paper documents. We give you the most cost-effective tools to capture, process and store your paper-based transactions.
No Presorting Necessary
Scan intermixed transaction types with One-Touch Processing, advanced recognition and Smart Batching™ technologies. The system will automatically recognize each transaction type and appropriately process it via an image-based workflow.
Substantial cost savings by eliminating hand operations and more efficient image-based workflows to process more documents in less time.

Stop shuffling paper from department to department with image-based workflows.
Do More with Data
Image enhancement allows for improved remittance processing, form capture capability and enhanced interfacing with other systems. You can extract data from any document, validate it and export that data to downstream systems as needed.
Always know the exact status of your operation to assign resources where needed and identify issues before they become major problems.

Dramatically reduce security concerns with encryption, configurable access restrictions, redaction and flexible audit trail options.
It's All About Access
Store images and data from all processed transactions for easy access from any web browser. Our Connect™ Web Portal gives basic and advanced search options to find the exact transactions you want.
Eliminate headaches of lost paper documents or batches destroyed before being fully processed with Smart Track cradle-to-grave tracking.

Save time and increase customer satisfaction by providing quicker access to transactions for research with Connect Web Portal.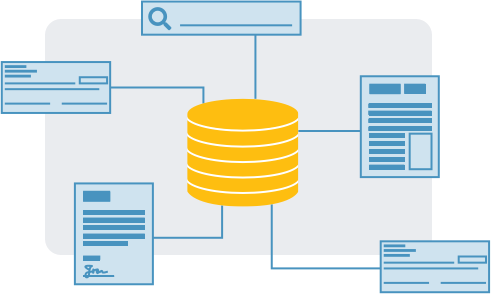 Document Imaging FAQs
What is document imaging?
The process of capturing data from scanned images of documents such as surveys, correspondence, forms, applications, invoices, EOBs, insurance claims, donations, stubs, as well as electronic sources such as email or fax. Once the data is captured and completed, the data is sent via the organization's preferred workflow for validation, business rule review and output to enterprise systems.
What role does a document imaging system play for an organization?
Efficient document imaging allows for documents to be captured and intelligently distributed to the organization. It also allows for exception items to be identified quickly and handled efficiently by the appropriate department.
How do companies benefit from automated document imaging software?
Automating document imaging enables departmental resources to more efficiently complete their required tasks while reducing the impact from human error and focusing on customer service. Automation also allows organizations the ability to minimize physical contact with documents and more easily enable remote and work-from-home scenarios.
What issues can prevent an organization from efficient document imaging?
Legacy systems and workflows which require the touching of documents more than once, and manual handling of exceptions are two common issues that prevent any organization from document imaging efficiently.
What best practices would a document imaging specialist recommend to improve a company's document processing?
Efficient operations minimize or eliminate document preparation for processing, work all exception items primarily from an image display and have few rejected transactions. If you experience any of these conditions, then implementing a One-Touch remittance processing solution from Mavro will make a significant difference in your operation.
Resources
Document Imaging Software Success Story
Learn More
Learn what Mavro can do for you.